PRINCIPAL Prof. K. ANANDAVELU, M.E., Ph.D., MISTE was graduated from the University of Madras and completed his post graduation from Annamalai University, where he excelled at both academic and extracurricular activities. From the juvenile period of his educational career he devoted himself towards studies. He attained his doctorate in Mechanical Engineering from Anna University. He published several articles in National and International journals and also presented papers on various topics. As a man of action he takes up the maiden Principal of MRK Institute of Technology.
As a multifaceted personality he has been serving the institution from its inception. He is the enterprising head who initiates various associations and clubs to the college. The strong belief that the technological growth would lead the nation to peace and prosperity, the need to provide educational empowerment to the larger section of society, he takes all the feasible steps to attain this greatest goal. The positive attitude and analytical power of him give a lot of courage to lead a more sophisticated life in future. Besides he is a good disciplinarian and versatile genius.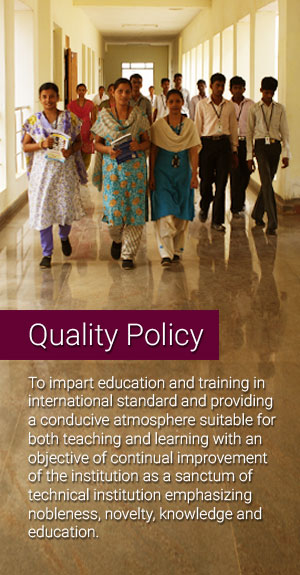 Vision
To emerge as a sanctum of technical education to bring out self- fulfilled and adept engineers to meet the requirements of the society and posterity with nobleness, novelty, knowledge and education
Mision
To disseminate high quality technical education to the rural mass with an Endeavour to transform them as a responsible citizen. Enriching the standard through high quality infrastructure and efficient teaching faculty. Encouraging research activities, development and teaching programmes on par with international standards. To mould the students who can facilitate the search of humanity for the knowledge.